December 21st, 2014 at 3:15 pm
Posted by pc in
Uncategorized
[L-R] Adam Steiner, Saleha Begum, Adam Wyeth, Kathy D'Arcy and Cal Doyle

Twin Cities
Poetry Exchange
with photos and reviews from

Cork and Coventry poets
July and November 2014
[L-R] Saleha Begum and Adam Steiner at Béal na Bláth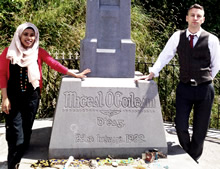 This year's Cork-Coventry Twin Cities poetry exchange welcomed five new and talented voices. Representing Coventry were two exciting young poets: Adam Steiner and Saleha Begum, while Cork returned with three well-known local poets: Adam Wyeth; Kathy D'Arcy and Cal Doyle. Over three days in July the Coventry poets gave readings at Ó Bhéal, the West Cork Literary Festival and at the Whitehouse in Limerick. They visited Lord Mayor Cllr. Mary Shields at City Hall and travelled through counties Cork, Kerry and Limerick, making various detours to visit historical monuments and rare curiosities like The Time Traveller's Bookshop in Skibbereen. In November the Cork poets gave readings at The Big Comfy Bookshop in Coventry and also in Burton-on-Trent, visited Lord Mayor of Coventry Hazel Noonan who accompanied them on a tour of the old Cathedral ruins. They were interviewed live by Kate Hills on Hillz FM Radio and also visited Stratford and Birmingham.
"I am finishing now and I say this; I cannot think of a better place to bring this state visit to a close than among the Irish community; with the Irish of Britain active for 40 years with groups like the St. Patricks Club, Leamington Spa, the Coventry Irish Society, the Coventry County Association and the Coventry Cork Poets." – President Michael D Higgins at the Guild House, Coventry, April 2014
For the full review from the participants, with photos, click here.
No comments yet.
RSS feed for comments on this post. TrackBack URI
Sorry, the comment form is closed at this time.