December 14th, 2012 at 1:10 pm
Posted by pc in
Uncategorized
[L-R] Janet Smith, Jayne Stanton, Conor McManus and Matthew Geden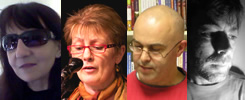 Twin Cities
Poetry Exchange
with photos and reviews from
Cork and Coventry poets
August and November 2012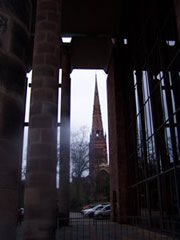 In 2012 the Twinning exchange was broadened yet again with four new participating poets, representing Coventry: Janet Smith and Jayne Stanton, and for Cork: Conor McManus and Matthew Geden. The Coventry poets visited for four days in August, giving readings at Ó Bhéal and the Whitehouse in Limerick, and were treated to excursions to Lough Gur, Cobh, Myrtleville and the English Market, while during a reciprocal four-day visit the Cork contingency gave readings at both Night Blue Fruit in Coventry and Tamworth, and appeared on HillzFM Radio. Both parties visited their respective host cities' lord mayors.
For the full review from the participants, with photos, click here.
No comments yet.
RSS feed for comments on this post. TrackBack URI
Sorry, the comment form is closed at this time.