November 22nd, 2011 at 12:14 pm
Posted by pc in
Poetry Events and News
[L-R] Malcolm Dewhirst, Afric McGlinchey, Colm Scully and Jennifer Matthews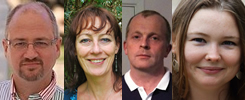 Twin Cities
Poetry Exchange
with photos and reviews from
Cork and Coventry poets
August and November 2011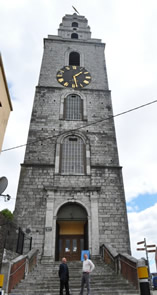 The successful annual exchange between Cork and Coventry has been taking great strides forward, with poet Malcolm Dewhirst performing at Ó Bhéal and Limerick's Whitehouse in early August, including excursions in Cork city, Cobh and Lough Gur. Malcolm has been inspired to write a number of poems about his visit. The return trip during the first week of November featured three Cork poets, Jennifer Matthews, Colm Scully and Afric McGlinchey, who gave readings in Coventry and Polesworth, were taken along the Polesworth poetry trail and performed on HillzFM Radio – and a lot more … reviews follow from each of the poets here.
You can also read Gary Longden's reviews of both events at Night Blue Fruit and The Fizz right here.
No comments yet.
RSS feed for comments on this post. TrackBack URI
Leave a comment
You must be logged in to post a comment.