October 20th, 2013 at 5:39 pm
Posted by pc in
Ópen minds in Poetry
Inaugural Ó Bhéal International Poetry-Film Competition Winner Announced

in association with IndieCork, festival of independent cinema

16th-20th October 2013
Ó Bhéal is pleased to announce its association with the inaugural IndieCork festival of independent cinema (www.indiecork.com). This is Ó Bhéal's fourth year of screening poetry-films (or video-poems), and the first year featuring a competition.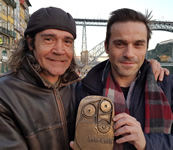 Actor José Moreira and Director Manuel Vilarinho (Portugal)
Winner announced 2Oth Oct 2013: Congratulations goes to Manuel Vilarinho from Portugal, whose poetry-film No País Dos Sacanas (In the Land of Bastards) has won the IndieCork Festival prize for best poetry-film, in the Ó Bhéal International Poetry Film Competition.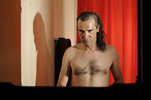 No País Dos Sacanas / In the Land of Bastards (3:50)
Poem: No País Dos Sacanas by Jorge de Sena
Synopsis – To be a crook and a half in the country of crooks? No, since everyone is, at least two.
Director: Manuel Vilarinho (Portugal)
Born in 1974, Manuel is a graduate in Tecnologia da Comunicação Audiovisual by IPP, Instituto Politecnico do Porto, in 2004. He directed several video clips for the music band, Fat Freddy during 2000 and 2003. In 2001 he won the FESTIVIDEO FILM FESTIVAL and the First Prize and Public award on OVAR VIDEO FILM FESTIVAL, with the short cut, LADROES. In 2004 he won the TAKE ONE prize at the International Video Festival of Vila de Conde, with AGUENTA, RAPAZ. During 2007 and 2011 he edited several TV programs. Manuel has worked at TVI, Independent Television in Portugal, since 2001.


The full programme for the competition shortlist is here.
No comments yet.
RSS feed for comments on this post. TrackBack URI
Sorry, the comment form is closed at this time.