September 22nd, 2009 at 2:16 pm
Posted by pc in
Poetry Events and News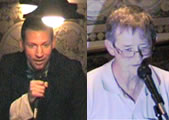 Munster Slam Championships
WINNERS ANNOUNCED
Tobias Manderson-Galvin and Tom McCarthy
21 September 2009
18 poets from across Munster competed in two rounds last night at Ó Bhéal to produce this year's Munster Slam Champ, Tobias Manderson-Galvin, and runner-up, Tom McCarthy. Congratulations to both, who will represent Munster in the 2009 All-Ireland Slam Championships held this year in Galway on the 26th of October. North Beach Nights will be hosting the event, which alternates annually between the four provinces.
Congratulations to all the contestants who were all on top form, Rosalyn Blue, Donna Coogan, John Carmody, Ed O'Dwyer, Marie Coveney, Paddy Doyle, Seamus Harrington, Tobias Manderson-Galvin, Lorcan Murray, Mary O'Connell, Ciaran O'Driscoll, Jonni O'Gorman, Rosie O'Regan, Stephen O'Riordan, Christy Parker, Tom McCarthy, Colm Scully and Patricia Walsh.
Videos of all the performances are this way.
No comments yet.
RSS feed for comments on this post. TrackBack URI
Leave a comment
You must be logged in to post a comment.