December 30th, 2014 at 12:44 pm
Posted by pc in
Uncategorized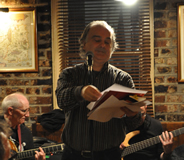 Jazz-Poetry Night 2014
Guest Poet and Open-Mic videos
(also on the Ó Bhéal Youtube channel)
20th October
A class night of jazz-poetry with Patrick Cotter accompanied by Mo O'Connor, Pat Barrett and Niall Dennehy, and followed by an excellent open-mic for our 7th jazz-poetry night. The videos (filmed by Stephen O'Riordan) of both the main set and the open-mic are here.
No comments yet.
RSS feed for comments on this post. TrackBack URI
Sorry, the comment form is closed at this time.