December 22nd, 2013 at 8:56 pm
Posted by pc in
Poetry Events and News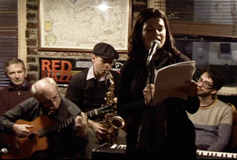 Jazz-Poetry Night 2013
21st October
Oh what live jazz and poetry can create – our 6th jazz-poetry night in October saw Dimitra Xidous team up with musicians Gary Baus, Jack O'Rourke, Mo O'Connor and Michael O'Callaghan. So we won't harp on about the magic when the videos (filmed by Stephen O'Riordan) of both the main set and the open-mic, are right here.
No comments yet.
RSS feed for comments on this post. TrackBack URI
Sorry, the comment form is closed at this time.