October 31st, 2016 at 7:00 pm
Posted by pc in
Uncategorized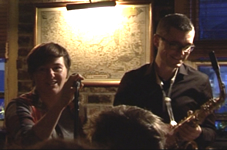 Jazz-Poetry Night 2016
Guest Poet and Open-Mic videos
(also on the Ó Bhéal Youtube channel)



A fantastic jazz-poetry event with Sarah Clancy accompanied by The Jazz Messengers, followed by a vibrant open-mic for our 9th jazz-poetry night. This year's 28 videos were filmed by Lovisa Cosgrave and include eight of Sarah's poems and the following open-mic.


The complete video playlist is here
No comments yet.
RSS feed for comments on this post. TrackBack URI
Leave a comment
You must be logged in to post a comment.