November 5th, 2008 at 7:06 pm
Posted by pc in
Poetry Events and News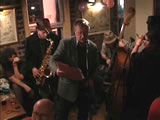 Ó Bhéal jazzing up the Verse
27 October 2008
At the tail end of Cork's Jazz festival, a full house swayed to the improv fusions of Keith Armstrong and The Honeyfeet, who met for the first time in the afternoon to rehearse for an hour, and they made magic.
Keith's lyrical verse and tenor tones balanced superbly with the zesty quintet from Manchester, with Alabaster de Plume on saxophone, Samuel J Double Bass Buckley, Rick Warren on harmonica, Ríanna Ní Chonghaile on flute and vocals and Alice Davis on guitar. Videos of Newcastle poet Guy Hudson's opening reading follow afterwards.
These vids are going to be major on Youtube. Here they are. Enjoy.
No comments yet.
RSS feed for comments on this post. TrackBack URI
Leave a comment
You must be logged in to post a comment.