November 19th, 2008 at 6:20 pm
Posted by pc in
Poetry Events and News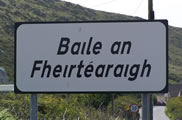 Ballyferriter's Little Poetry Festival
7-9 November 2008
In the Gaeltacht poetry seems to be a part of everything. It's in the language, the scenery and especially the hospitality. What a weekend! 9 poets from Cork and about the same from Limerick converged on the West Dingle peninsula only to be met by two score more of local filí and storytellers. After a first-rate appraisal workshop with Gabriel FitzMaurice on Saturday afternoon, everyone settled in for a meal and an evening of Mighty Craic, including a fiery three hour open-mic session, emceed by Domhnall MacSíthigh and Máirín Feirtéar, herself a direct descendant of the original Ferriters who ruled the North Dingle peninsula from the 13th to the 17th Centuries. The poetry flowed non-stop as did various other liquid substances, and was followed by a late late oiche fada.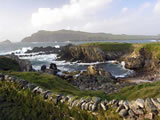 The next morning (don't ask) there were readings from local poets, from Ó Bhéal and Limerick's Whitehouse chaired by Ceaití Ní Bheildiúin over in Dingle, after a tour of Harry Clarke's church windows by Monseigneur Pádraig Ó Fiannachta (now retired). Well I for one didn't want to leave, and I heard a few others say the same. Ballyferriter must be the perfect place for a new poetry retreat. Any takers out there?
This elegant, heartening event, organised and hosted annually by poet and potter Louis Mulcahy, has etched its way firmly into my 2009 diary. Thanks Louis. May there be many more!
The videos from the Sunday morning are here.
No comments yet.
RSS feed for comments on this post. TrackBack URI
Leave a comment
You must be logged in to post a comment.