November 19th, 2008 at 6:05 pm
Posted by pc in
Poetry Events and News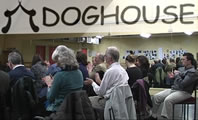 DOGHOUSE books
presents
Joseph Horgan, Áine Moynihan,
Gréagóir O Dúill and Eileen Sheehan
7 November 2008
On Friday evening at Siamsa Tíre in Tralee, poetry enthusiasts gathered to enjoy four poets who have each had collections published by Noel King and DOGHOUSE books in 2008. Since its inception in 2003 this successful Kerry house has established a number of highly regarded poets and has since become Munster's primary publishing vessel for individual collections.
To see the videos of the evening click here.
No comments yet.
RSS feed for comments on this post. TrackBack URI
Leave a comment
You must be logged in to post a comment.