November 19th, 2008 at 7:00 pm
Posted by pc in
Poetry Events and News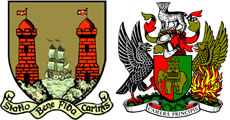 Cork-Coventry
Twin Cities Celebration
with poetry from
Jon Morley and Anthony Owen
17 November 2008
Cork's first Twin City was Coventry, established in 1958. In celebrating the 50th anniversary of this valuable relationship, Ó Bhéal hosted two of Coventry's more prominent masters of verse, Jonathan Morley and Anthony Owen. The evening was attended by Deputy Lord Mayor Jim Corr, who addressed the audience with an inspired speech, acknowledging the importance of poetry and the long-established link between the two cities.
As Anthony had to reluctantly fly back due to unforeseen circumstances, six of Ó Bhéal's regular poets, Billy Ramsell, Alan Coakley, Daw Harding, Joe Sweeney, Bríd Buckley and myself each read one of his poems, before Jonathan Morley took to the stage to recite from his forthcoming collection, Backra Man.
The videos from the evening are here.
No comments yet.
RSS feed for comments on this post. TrackBack URI
Leave a comment
You must be logged in to post a comment.