April 17th, 2008 at 8:29 pm
Posted by pc in
Poetry Events and News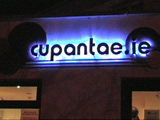 Poetry Reading & Open Mic
in An Cupán Tae café, Carraroe
8 April 2008
Over the past year, artist-poet Aoife Casby has been holding a series of bilingual evenings in Carraroe, Co. Galway.
Earlier this month and with the support of Údarás na Gaeltachta, Aoife hosted readings by Trish Casey and Micheál Ó Cuaig, who also sang sean nós. In a cheerful Gaeltacht style, Ceara Conway creatively eMCeed the proceedings which later included an open-mic session featuring Maire Uí Eidhin, Pádraic Harvey, Aoife Casby (reading a poem by Dan O Flatharta), Annette Lohan, Caroline Lynch and Biddy Jenkinson.
A spirited Connemara crowd filled the venue and after a most pleasurable few hours the evening ended with an impromptu sing-along. I think one enjoys poetry that much more in an inspiring setting, and gently rolling, luminescent Carraroe with its panoramic views of the Aran Islands and the cliffs of coastal Clare, proves ideal.
To see the videos from the evening, click here.
No comments yet.
RSS feed for comments on this post. TrackBack URI
Leave a comment
You must be logged in to post a comment.