October 30th, 2017 at 9:35 am
Posted by pc in
Uncategorized
5th Ó Bhéal Poetry-Film Competition Winner Announced
15th October 2016
Our hearty congratulations to Canadian filmmaker
Kayla Jeanson
from Winnipeg, whose superb film
Descrambled Eggs
is Ó Bhéal's 5th poetry-film competition winner, announced at the
IndieCork
Festival awards ceremony. Kayla's film won amid very tough competition from 30 other shortlisted entries, representing 13 countries, the details of which you can view
here
. Our special thanks to all the poets and filmmakers who submitted this year. A bumper yield of 186 films arrived from 29 countries.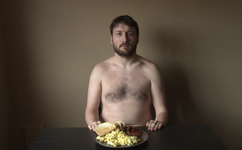 Descrambled Eggs (4:14)
Poem: Descrambled Eggs by Steve Currie
Synopsis – Poetry, dance, and eggs collide in this short film by Canadian artist Kayla Jeanson. Poet Steve Currie grapples with the origins of his existence and limitations of his corporeality.
Director: Kayla Jeanson (Canada)
Kayla Jeanson is a Winnipeg-based filmmaker who specializes in producing screendance and work on the edge of documentary. A producer/director for her company Parachute Media Lab, she has developed a wide range of work including broadcast and commercial web video. She is also a trained contemporary dancer and choreographer.
For more visit http://kaylajeanson.com/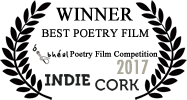 "The standard across the board with the poetry films was incredibly high and we had a genuinely tough time making the final selection. There were lots of submissions with amazing visuals, but their respective poems were not crafted, featured tired language or had polemic and a tendency to preach. Others had well-crafted poetry but the film did not work with the poem. There were some very special ones where both poem and film were well crafted, edited, and worked together — and from these it was very hard to choose just one.
Kayla Jeanson's Descrambled Eggs took both mediums into account and tells a bold, original, engaging and funny story. It's a really entertaining piece and there are many small touches that demonstrate that the creators really put thought into the visuals and delivery of the poem while they were planning and shooting it. The poetry-film competition is about both mediums working together. With that in mind, the winner has made a huge effort to be a thoroughly cohesive piece with choreography, timing in camera, locations, props, performances etc."
– Lani O'Hanlon & Shaun O'Connor
Submissions will open for the 6th Ó Bhéal Poetry-Film Competition from May 2018 at this link.
No comments yet.
RSS feed for comments on this post. TrackBack URI
Leave a comment
You must be logged in to post a comment.