November 19th, 2008 at 6:40 pm
Posted by pc in
Poetry Events and News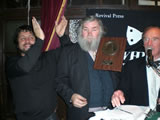 2nd All Ireland Live Poetry Championships
held in the Whitehouse, Limerick
Winner: Dónal Ó Siodhacháin (Munster)
12 November 2008
Munster poet Dónal Ó Siodhacháin took the title back from Connaught this year at the second All-Ireland Poetry Slam Championships, moving from Ulster in its inaugural year to Limerick's legendary Whitehouse. Regular compere Barney Shehan passed the reins over to eMCee and guest poet Steve Murray for this high-paced event which proved its worth a hundredfold with excellent performances from all around the island.
The first All-Ireland Slam was in McHugh's in Belfast last year, a fantastic event where Brendan Murphy from Galway took the crown. Next year it will be held in either Leinster or Connaught. Congratulations to champ Dónal Ó Siodhacháin, to Stephen Smith who took second place, Dave Lordan who took third, as well as to Dominic Taylor and Desmond Swords for making it all possible.
You can see the main videos from the night here.
No comments yet.
RSS feed for comments on this post. TrackBack URI
Leave a comment
You must be logged in to post a comment.