January 16th, 2017 at 1:03 pm
Posted by pc in
Poetry Events and News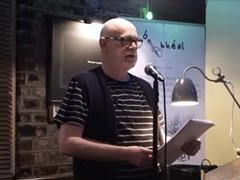 Ian Duhig on Video
followed by the open-mic
12th December 2016
For anyone who missed our phenomenal end-of-year event with Ian Duhig, we have all 11 of his poems on video plus 16 more from the open-mic, with huge thanks to Lovisa Cosgrave! What a night!
And a big thanks to all on the open-mic, Bernadette McCarthy, John Mee, John Nyhan, Mary O'Connell, Seamus Harrington, Ray Hanrahan, Jason Fisher, Patricia Walsh, Michal Weber, Charles Clarke, Pat Cotter, Mary Sutton, Rab Urquhart, Cédric Bikond, Michelle Delea, Janie Sparks, Patrick Loughnane, Teresa Honan and Ciarán MacArtain (with Michal).
All 27 videos are on our End of Year 2016 with Ian Duhig YouTube playlist.

(or via the Ó Bhéal Youtube channel).
No comments yet.
RSS feed for comments on this post. TrackBack URI
Leave a comment
You must be logged in to post a comment.