January 20th, 2015 at 4:40 pm
Posted by pc in
Ópen-mic on Mondays
,
Uncategorized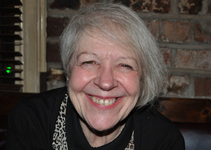 Liz Lochhead on Video
followed by the open-mic
15th December 2014
For those who missed our end of year reading with Liz Lochhead (the Scots Makar / National poet of Scotland), we have all 13 of Liz's poems on video for you. Liz gave a fabulous reading and an excellent open-mic followed to end off the year. With thanks to Rab Urquhart for capturing the footage.
All the videos are here
(or on the Ó Bhéal Youtube channel).
No comments yet.
RSS feed for comments on this post. TrackBack URI
Sorry, the comment form is closed at this time.