December 22nd, 2011 at 2:14 pm
Posted by pc in
Ópen-mic on Mondays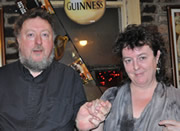 Ó Bhéal open-mic on Video
12 December 2011
At Ó Bhéal's 238th event, after a magnificent reading by poet laureate Carol Ann Duffy and musical performance by John Sampson, all sixty-five minutes of which had to remain live for copyright reasons, we managed to video the poets from the open-mic, which you can enjoy right here.

No comments yet.
RSS feed for comments on this post. TrackBack URI
Leave a comment
You must be logged in to post a comment.