Ó Bhéal Five Words International Poetry Competition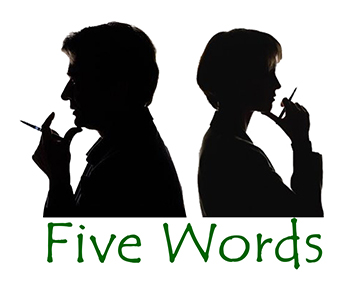 Entries are now Closed
Thanks to all who entered!
Shortlist announced 1st March 2015
| | |
| --- | --- |
| Survivor | by Derek Sellen (England) winner |
| Sonnet in B Major | by Afric McGlinchey (Ireland) highly commended |
| Home Cooking | by Adannaya Igwe (UK) highly commended |
| Saved | by Liz Smith (England) |
| Breakfast | by Sheena Blackhall (Scotland) |
| At the Hair Clinic | by Derek Sellen (England) |
| The Snooze Button | by Margaret Mc Carthy (Ireland) |
| The Sectioning | by Bernadette McCarthy (Ireland) |
| I Coin a Line | by Mary Fahy (Ireland) |
| The Stereogram | by Anthony Scott (England) |
| Black Mountain Rebel | by Tess Sheridan Adams (Ireland) |
| False North | by John W. Sexton (Ireland) |
Competition Overview
(The 3rd Ó Bhéal Five Words Comp commences 14th April 2015)
At around noon each Tuesday (GMT), from the 14th of April 2015, five words will be posted on this competition page. Entrants will have one week to compose and submit poems that include all five words given for the week.
The competition will run for 41 weeks, until the last week of January 2016.
Prize
A prize of 500 euros will be awarded to one winner, and if available, invited to read at Ó Bhéal's ninth anniversary event on Monday 11th of April, 2016 (an additional travel fee of 100 euro plus B&B accommodation will be provided for this). The shortlisted poems and winning entry will also be published in Five Words Vol IX – the next annual anthology of five word poems, launched at the same event.
This year's judges will be announced shortly. A shortlist of twelve poems including the overall winner will be announced during the first week of March 2016.
The five words offered each week for 2015-16 are sourced from the audiences of the third year of fifty Five Word Challenges held each Monday evening during 2009-10 at Ó Bhéal – with a selection of extra words added due to deletion of duplicates, etc. They are then randomly selected from this list.
Submission Guidelines
Entry is open to all countries. Poems cannot exceed 50 lines in length (including line breaks), and must include all five words listed during this week. A modicum of poetic license is acceptable. As long as the original spelling is intact within your syntax, you're welcome to pluralise, join or even split the word to form two adjoining words. There is no limit on submission quantities, although each payment and submission will need to be made separately. Entries to be sent no later that 12pm on Tuesday.
Submissions carry a 5 euro entrance fee.

Payment should be made via this paypal button before continuing.

Once payment is made, please copy your poem into the completed submission form (one poem per form), and email to

or by post (postmarked by Tuesday at latest) to:

Ó Bhéal Five Words Poetry Competition
c/o: The Long Valley
Winthrop St
Cork
Ireland
For postal entries, please print out and complete the submission form, and post together with your attached poem (in which nothing other than the title and poem appear). As is usual practice, all entires are logged and numbered by our allocated filter programmers so that judges cannot see the names of the entrants. Email entries should be sent via the email address given above, not via the submissions [at] obheal [dot] ie email link on the home page, which is only for non-competition entries, written and performed live during each Monday evening event – from words offered up in random by the audience.
Best of Luck!
---