January 15th, 2017 at 10:51 am
Posted by pc in
Uncategorized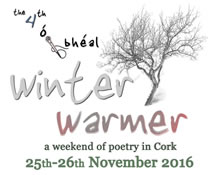 Winter Warmer Videos 2016
25th-26th November
The 4th Winter Warmer festival at the Kino was an enormous success, with far larger audiences throughout thanks to the space, although perhaps a little chilly for the Winter Warmer, we thought. Nonetheless a special privilege to host the festival in this iconic, soon-to-be-lost cultural space.
A whirlwindy, delightful two days and superb line-up of local and International poets from seven countries, in three continents, featuring Raina J. Leon, Ross Donlon, Michael Augustin, Josep Lluis Aguilo, Jos Smith, Emily Cullen, Catherine Walsh, Billy Mills, John Fitzgerald, Paul McMahon, Roisín Kelly, Martín Veiga, Eibhlís Carçione, John Ennis, Kerrie O'Brien, Elaine Feeney, Seán Dennehy, Tara Bergin, Gerry Hanberry, Paula Cunningham, Jessica Traynor, Annemarie Ní Churreáin and performance artist Francesca Castellano.
We have 30 videos from the festival (in order of appearance), followed by poems from the closed-mic session poets.
The Playlist of All 30 videos is on Ó Bhéal's Youtube channel, right here.
No comments yet.
RSS feed for comments on this post. TrackBack URI
Leave a comment
You must be logged in to post a comment.