December 14th, 2012 at 10:56 am
Posted by pc in
Uncategorized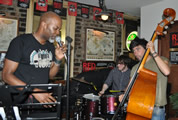 Jazz-Poetry Night 2012
22 October
October saw another fantastic jazz-poetry night at Ó Bhéal, featuring poet Raven and the Dan Walsh Trio. Even though they'd only just met, many remarked on how they seemed to have been playing together for years. To view all the videos filmed by Stephen O'Riordan, including those from the open-mic, click here.
No comments yet.
RSS feed for comments on this post. TrackBack URI
Sorry, the comment form is closed at this time.