December 19th, 2012 at 7:38 pm
Posted by pc in
Poetry Events and News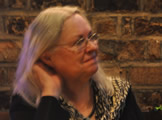 Gillian Clarke on Video
10 December 2012
For those who missed our end of year reading with the national poet of Wales, Gillian Clarke, we have 14 poems from the evening on video for you. Gillian delighted the Ó Bhéal audience with an exemplary reading, mainly from her latest collection Ice (Carcanet, 2012), which is shortlisted for the current T.S.Eliot prize. A special Thanks to Stephen O'Riordan for capturing this footage. The videos are here.
No comments yet.
RSS feed for comments on this post. TrackBack URI
Sorry, the comment form is closed at this time.