Poets and video
This page showcases poetry on video
---
---
Select poetry clips from YouTube
---
Forgetfulness – Billy Collins Animated Poetry
---
Moving Poetry Highlights – RANT/RAVE/RIFF

Poems by Pablo Neruda, Rumi, Langston Hughes, Carl Sandberg, Antonio Machado and others. see more at www.4seasonsproductions.com.
---
Poetry – Salma
---
Hush Hush Hush – Heru
---
Marwa -The Young Sudanese Poet
---
Rare Film Clips Of The Poet Anne Sexton
---
The Ballad Of The Skeletons – Allen Ginsberg & Paul McCartney
---
Cassius Clay recites his poem about himself
---
The Ultimate Canucks Haiku
---
Fever 103 – Sylvia Plath
---
A Tribute To Sylvia Plath And Ted Hughes Part 1
---
A Tribute To Sylvia Plath And Ted Hughes Part 2
---
Children of the Night – Saul Williams
---
Adam Wyeth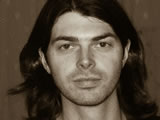 Adam Wyeth is from Sussex and now lives in County Cork. His poems have been published in numerous literary journals …
[more]
Adam is also a filmmaker, and is credited among his works with directing 'Soundeye International Poetry Festival' (2005) and 'Desmond O'Grady' (2005).
These clips shouldn't be missed. The SoundEye video especially, must be one of the most innovative poetry films made in recent years.
Click to view Adam's profile
---
---