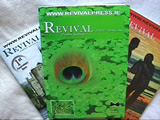 Revival Poetry Journal launched at the Whitehouse
9 April 2008
April 9th marked the launch of the 7th issue of Revival at The Whitehouse in Limerick, featuring readings from some of the contributors. Editor Teri Murray gave welcome and Galway poet Kevin Higgins introduced the collection, while John Johnston compèred in the abscence of Barney Shehan, who we hope to see back at the microphone soon.
It's not surprising that the Shannon's Whitehouse emanates one of the more popular Irish poetry journals. Revival features over forty contemporary poets from across the island and far beyond, and has become widely in demand thanks to the committed work of Teri Murray, Mark Whelan and Dominic Taylor. A great display of verse from a great venue.
Submissions are being accepted for Revival issue 8 (July 2008), and guidelines can be found at http://revivalpoetrybook.blogspot.com
The Revival readings were followed by the launch of Kevin Higgins' latest collection, Time, Gentlemen Please (videos further down)
---
Videos from the Revival 7 Launch
---
Teri Murray

---
Kevin Higgins
---
Michael Gallagher
---
George Harding
---
Tom McCarthy
---
Greg Carey
---
Mary Hanlon
---
Patrick Stack
---
Vivienne McKechnie
---
Liam Duffy
---
Videos of Kevin Higgins reading from his second collection
Time Gentlemen, Please
---
Kevin Higgins

Kevin Higgins
lives in Galway, Ireland, where he co-organises the Over The Edge literary events, is the poetry critic of The Galway Advertiser and was co-founder of The Burning Bush magazine. Kevin's first collection of poems,
The Boy With No Face
was published by Salmon in February 2005.
The Boy With No Face
was short-listed for the 2006 Strong Award for Best First Collection by an Irish Poet. In September it went to its second printing. His second collection,
Time Gentlemen, Please
, is published by Salmon. Kevin has read his work at most of the major literary festivals in Ireland and at a wide variety of venues and festivals in Britain, France and the United States. He won the 2003 Cuirt Festival Poetry Grand Slam and was also awarded a literary bursary by the Arts Council in 2005. Kevin's work is discussed in poet-critic Justin Quinn's Cambridge Introduction to Modern Irish Poetry, due out in April.
---